Georgette's Log
("GLog")
Photographs and drawings by Georgette Freeman © 2008. All rights reserved.
Copyright © 2008 by Georgette Freeman. All rights reserved.
Leg One: San Francisco, CA, to Gatlinburg, TN • Leg Two: Gatlinburg, TN, to Fairfield, PA
Early Summer Road Trip 2008
§
Leg Three: Gettyburg, PA, to Ghost Ranch
Thu/July 4, Santa Fe, NM
Check this link out. It's what I'm doing next Wednesday night, July 9:
a speaking engagement on 3-D metaphors and experience in Santa Fe.
http://sfcomplex.org/wordpress/2008/07/stereocomputational-photography-ii#more-128
Thu/June 12, Davenport, IA/187029* 8:22 am. [Parked]

Photos are courtesy of St. Ambrose College, Davenport, IA
§
Leg Two: Gatlinburg, TN, to Fairfield, PA
Fri/May 30, Chambersburg, PA/186101* 2:45 pm. NJ, PA
Sidelined again by vaporlock. 83 degrees outside, with a full tank, having filled up with gas on the other side east side of exit 16 and just driven in a loop to exit 10 and back to 16 to go west. (Did the loop because I had misplaced the exit in my head.)
Had just enough gas left in the line to start a left turn before it died again, rolled through the intersection and into that same Starbucks. Now waiting for the engine to cool down before I can go on to the Big Oak coffee shop where I will connect up with the Internet and get Sheila's address and directions.
Seems the key to the vaporlock is a fillup. Everytime this has happened, or at least so it seems, it's after taking on a full tank of fuel. This happened before the Harrisburg sidelining and other instances where I've lost power, and it seems to be triggered by speed situations at stop signs and stop lights while traveling hot. The reason why I think it doesn't seem to effect getting back onto the freeway is that I've learned to start up ramps in low gear and high rev, shift into second and rev high,and then into drive while accelerating onto the freeway. It might mean traveling in stop-and-go traffic only on a partial tank.
But first I've got to figure this vaporlock thing out. The auxiliary fuel pump doesn't seem to be working, so I don't have the magic bullet, which is certainly going to be a problem in the Southwest, especially at Santa Fe's altitude. Will see if I can get it repaired or replaced while I'm at Sheila's, at a Gettysburg Ford dealer's, or a local Fairfield, PA, auto shop.
Had fun catching up with Nance, haven't seen her, really, since 2003 when I stopped over at her place for a week or so while I recovered more from surgery in Montreal. Nance is in the frontlines of the commercial photography trenches, and is the person behind NJ Media Services and the Cape May photography and painting workshops.
§
Thur/May 29, Berkeley Heights, NJ/185899* 7:00 am. NJ [NYC]
New York City was just what the doctor ordered. After a long day in the city, from 7 am to 11:30 pm, with time out to do the Summit Shuffle, got the pain of being sidelined beside the road in Pennsylvania completely out of my system. Some people go to NYC to see the sights, the museums. I went to see the people, ride the subway, walk its streets, read the New Yorker in Central Park, eat pastrami on rye, drink Brooklyn Lager, and see a real Broadway show.
Put another way, I went to NYC to be jostled by a diverse group of people, egregiously overcharged for a speciality coffee ($3,75 for a coffee with a shot, $4.50 for a cappuccino), to pay huge sums for transportation ($13 round trip from Summit, NJ, for off-peak travel, $15 for peak, and $7 for an all-day MTA Fun Fare good anywhere in the city on anything operated by MTA including subways and buses.
And did you hear the lilt in my voice when I mentioned Central Park? Nance tells me Fredrick Law Olmstead's relatives designed the park, using the old man's guidelines for urban parks. I love walking in the park and have done so most everytime I've been in the city, which is four times. First in 1967, then 1989, 2003, and now, 2009. Should the chance come up to go back, even on this trip, I'd do it.
"Oh, what show?" you may be asking. Spamalot. Front row, center (A108), orchestra, discounted. Sometimes it pays to be single.
§
Tue/May 27, Berkeley Heights, NJ/1858xx* 5:55 pm. NJ
Have made my apologies to Karen in Northampton, MA. I won't be going any further east on this trip. The weather is unstable, isolated thunderstorms have passed overhead, headed east, dropping rain intermittently all day long, and those two hours beside the road took something out of me. I no longer have any desire to joyride, at least for the immediate future. Besides, things are cozy in Nance's driveway, and I have tickets in hand for the NJ Transit train from Summit, NJ to NYC, and return, for tomorrow. A parking lot has been located where I can park the over-height Nomad and so, it's New York City tomorrow, not NoHo. Friday morning I intend to set out early for west PA to attend SW's week-long calligraphy workshop.
§
Tue/May 27, Berkeley Heights, NJ/185856* 8:00 am. PA, NJ
Nosed into Nance's driveway just after midnight. While there was no more major construction past the spot that caused me to vaporlock, found the remaining stretch of I-78 to be the worst stretch of roadway I have traveled on.
Seems they poured the roadbed in blocks of concrete which, over time, have become uniformly uneven. Something like driving across concrete textured in a corduroy pattern transverse to the direction of travel. Most unsettling to be driving at any speed, let alone freeway speeds, off the peak of one wale dropping into the valley of the next for miles on end. Moved around from lane to lane to find a smoother spot, but to no avail. Going back to PA, I'll take I-80 instead.
The State Police made their appearance last night around 9:30 pm, and I was back on the road 17 minutes later without dinner. Cloves of garlic had been rough cut along with a whack of red onion, some baby portabella mushrooms, a sweet green pepper, a smidge of Jalapeno, and a handful of green beans. Had just shucked an ear of sweet white corn, set-up the stove, and was getting ready to sauté the cut vegetables, when the light from a cruiser's blue and red flashers passed through Nomad's front window and reflected off my pant legs.
Got out of the van through the cargo door and approached the cruiser, only to be told over the guy's loud-hailer: "Remain in your vehicle!" A little shaken up, I got back into the van through the cargo door and prepared to get back on the road, traffic be damned. Chopped vegetables and the corn were bagged. The stove was broken down and, as I was putting the computer away, I noticed through the van's rear vent that another cruiser was behind me, lights flashing. "My god," I said to myself, "he's called for backup."
Then there was a muffled sound of someone calling to me from outside the passenger side door and I bent down to look into the probing beam of one of those long-handled flashlights. Staying down and in his sight, I opened the side window and launched into my shtick: "vaporlock, pulled to the side of the road, I'm not an obstacle, she's cooled down and will start, and I'd like to finish making dinner."
He followed me all the way to the end. One of those long faces. Closely placed eyes, behind steel wire-rimmed glasses, thin nose and lips. Couldn't see his hair for the Smokey-the-Bear cap, which he trying to keep properly erect as we carried on our conversation head to head through the open passenger side window. I was above him, which must have been unsettling, considering what he has to do for a living. I wouldn't want his job.
Follow me he did, but he wasn't buying into my staying there any longer. He recited the circumstances: on the shoulder of a four lane interstate, near a construction hazard, trucks whizzing past just a few feet from me. I had to go. He suggested I pull into a commercial truck stop at the next exit. I asked if I could spend the night there. He said yes to that and then asked for my driver's license, "to enter me into the computer." Some time passed while I started the engine and then he was back at the window, flashlight playing over whatever he could see, which was a Kelsey hand-operated platen press, bolted into the place where a passenger seat would normally be. "What's that?" he asked.
On firmer ground, I launched into my summer roadtrip shtick: drive across America, taking book arts workshops, looking for someone who could tell what was wrong with the Kelsey, and hopefully finding that one person with the parts that would make it work. He told me his grandfather had had just such a press. "Must have been a hundred years old," he said. I asked if he still had it, with that lilt in my face that meant, if he did, I'd be interested in buying it.
"No," he said, and with that we quickly worked out the logistics of my getting back into the by now quickly passing but tightly spaced traffic. Shortly thereafter, left blinker on, and after a couple of beeps on the horn to signal to him my readiness, me and my police escort muscled our ways into the line formed to pass through the construction zone. At the first opportunity past the construction site, he sped past, only to dive into a cross-over set into the median, where he turned into the opposite flow of traffic and quickly disappeared from view. Dinner forgotten, I forged on to Allentown.
§
Mon/May 26, on I-78, near Fredricksburg, PA/185744* 7:38 pm. PA
[Insert pix: bsidrd1l.jpg]
Worst Fear Realized #2: Off to the side of a road, vaporlocked.
It's beginning to rain and I've been beside the road for about 5 minutes. Engine was running hot as she usually does when jockeying at the speed limit through dense traffic, the air muggy. Ran into a crawl of traffic headed towards Allentown, PA, on I-78, just after where I-78 splits from I-81 and heads east out of Harrisburg, PA. Felt Nomad shut down under me, vaporlocked, but was able to move onto the right shoulder before losing all forward motion. Steering is always the last thing to go.
Now, reasonably safe beside the road, out of the way of traffic, the engine won't start. Truckers that I had been passing for the last couple of miles crane their necks trying to look down into my cab to see what happened, but the pressure of the hundreds of other vehicles behind doesn't permit it. We are so hungry to rubber-neck the misfortunes of others.
God forbid this had happened only a hundred feet ahead of me where, due to some kind of construction, two lanes become one. There may or may not have been a shoulder waiting there, beside the road, on which to "cry," so regain strength, to speak.
Will give it an hour or more until at least two things coincide:
1) The engine cools down, whereupon experience shows it will start right up, just like in Boulder. Rain will help bring the engine's temperature down. It's 68 degrees outside and (hopefully) falling, just like the night. It's start to get dark out there.
2) Traffic thins to the point where things move faster. Nomad hates crawling.
3) The Pennsylvania State Police prove to be understanding. Will be interesting when they show up, if at all. Hopefully I'm not reported by the truckers as an obstacle, which I'm not. Again, experience shows the cops can be rational. That BPD supervisor let me stay in place until the tow came along and this time I'm not an impediment, so things should be cool. In fact, as I write this, I wish a cop would come along and give me leave. It would be a blessing: I'd like to make dinner.
Memo to self: in the face of such predictable circumstances, get off the road and wait it out until my engine has cooled and conditions are more favorable. That said, I'd sure like to know from the cops what else is ahead.
8:15 pm. I'm wondering if a "cooler" thermostat would cure this problem. As it is, I've got a "hotter" running thermostat. The cooler one opens at something like 140 degrees F; the hotter one opens at 180 degrees F. That said the engine runs roughly with the cooler thermostat, especially in cold winter weather, like that experienced on the West Coast.
8:30 pm. In the belief that a maximum fill of oil would be helpful, since the quantity of oil in the crankcase seems to be part of the engine cooling equation, checked the dip stick to see what's what with the oil, and found that it was about ¾ of a quart below a maximum fill. Added the necessary oil while I could still see, proud of myself for having thought of this.
Inside the cab, the engine temperature gauge showed things had cooled down to 140 degrees. It had been up around 190+ degrees. Tried starting and it didn't catch, although it sounded like it wanted to. Mashed the throttle with a "lead foot," tried again, and she caught.
Ergo, here I sit, traffic beginning to move faster in the lane next to me, and now I know I'm not stuck with a dead engine. I think it's time to start dinner. The police, whom I can see the flashing lights of, far back in the distance, are not making any effort to check me out. So, bon appétit.
§
Mon/May 26, Chambersburg, PA/185663* 2:46 pm. TN, VA, WV, MD, PA

Things didn't quite turn out as planned, but had a good quiet night in the parking lot of a cheap motel sharing the lot with a stripped-down TA truck stop east of Roanoke, VA. The truck stop was nothing really, just a couple of credit-card activated gas pumps below a huge TA sign abreast the truck parking lot. By morning, there were several of us vans and private busses way off in the corner of the motel's property, sleeping the night into morning.
It's illegal to park overnight in Virginia's rest stops, at least those on I-81. Some of them even have two-hour time limits to the layover, and the Virginia authorities (the State Police, the various sheriffs and, I would guess, the local authorities) are vigorous in their advertised effort to "Crush Crime". (Rest stop bathroom mirrors are tagged with official graffiti: "Are you Virginia's next fatality?") So, I decided on the motel parking lot instead. I dread that "whack" of a billy-club on the side of the van. Among many things, it would ruin the already fragile paint.
Heading out at dawn, the most gorgeous sunrise was punctuated by the sight of police vehicles, most unmarked, and not of the fleet vehicle variety, that were as thick as ticks on stalks of grass, wet with the morning dew, all lying in wait to tag scofflaws—the posted speed limit for this very manicured and well built stretch of Interstate being the impossible 65 mph, and 60 mph near "Officially Designated Business Districts".
Without hyperbole, I swear, there were, on average, hidden in the medians, radar up and engines on, every 20 miles of the 120 some miles between Roanoke and Winchester, VA, far more than the statistical mean of 6 police vehicles. (PS: It's also against the law to use radar detection devices in Virginia.)
The night before, I had a sense this would be the case. Before bedding down at 11 pm, the bright flashing blue and red lights of Virginia's finest started appearing ever more frequently as the witching hour of midnight approached. Gladly, I departed from the plan and retired to the comparative safety of the motel's parking lot.
I have a dread of Virginia. It was here in 2003, while traversing the state from one end to the other on this same road, that I saw the strangest sight I've ever seen. In broad daylight, with a VA state policeman covering her, I saw an elderly well-dressed woman, in "the position" near the driver's side rear corner-panel of what I took to be her sedate sedan, trunk lid up and and all her possessions beside road.
I've always wondered if she was caught running prescription meds or Viagra down from Canada, but, then again, maybe she had only been speeding. Virginia may have been "For Lovers" in the 1980s, but now the slogan is: CRUSH CRIME. I was happy to enter West Virginia.
That said, ever wonder why I don't meander and sightsee all over when I'm on these long trips? Let me give you an example of "why." At the West Virginia Welcome Center (and rest stop, but they don't call it that), I stopped to find out what a sign meant that I had been seeing at all the rest stops along the way in Virginia.
Seeing this sign in WV, and the timing being right, I exited the Interstate, the sign greeting me with a wordless pictograph of a down-turned dial phone handset, above an abbreviated typewriter keyboard. Hungry for WiFi, I wondered as to the sign's meaing. Could this be some new form of Internet connection?
Working the Welcome Center desk alone this Memorial Day morning was a woman in her seventies, conservatively dressed in a uniform of her own choosing, all in blue, like her blue steel-grey hair. Very businesslike and ample, she was regarding me with professional concern from behind her no-nonsense prescription eyeglasses.
Our conversation went something like this:
"Good morning," I said, "I wonder if you could tell me what that sign as you enter the rest stop means. You know, the sign of the down-turned telephone handset above the keyboard. Do you know what that means?"
"That's a telephone for deaf people," she said.
Taking the direct approach, I countered, "Do you have WiFi?"
Slow on the uptake, she replied, "The telephone you want is in the next building."
"No," I said, rephrasing the question, "Do you have Internet access."
"Some do, we don't. They got to bring a wire all the way over the hills from Highway 11."
Apparently, DSL has yet to make it east (or is that west?) to west West Virginia. A place, by the way, my kin passed through quickly on their fast-paced trek to the West Coast by way of Kentucky, Illinois, and Wisconsin.
Changing the subject, I asked, "Do you have a map of West Virginia," seeing only a large map of Pennsylvania under the plastic covering of her station's writing surface.
"We do," she said, adding, "Give the public one thing and they want another." Apparently she was still processing the WiFi. On a roll, she said, "Had a woman come in once. She was from Florida and she wanted the Internet. Her mother was dying of cancer and she 'reamed' me because we didn't have it. If her mother is that sick she shouldn't be traveling."
I got my WV map only after I answered some demographic questions in her log book and signed my name. Seems I'm truly among the elderly in WV. The only tick-block available to me for the question concerning age was "over 60."
Outside at 9 am, children were gorging themselves on free hot dogs and doughnuts provided by the Lions Club. I suspect their parents were too far gone or too fat to get out of their cars. And this, dear ones, is why I don't "sightsee". Where some see the sights, I see and read the people. At the "attractions" it's all too often not too pretty.
At least you can sleep over in West Virginia's sole I-80 rest stop, and Pennsylvania is in accord with Virginia on this issue.
PS: I found this WiFi hot spot in Chambersburg outside the Big Oak, only though the kindness of a barrista at the Starbucks at the Pennsylvania Welcome Center people sent me to. The Welcome Center woman had informed me that all the other coffee shops in Chambersburg had closed. Moreover, the barristas also provided me with a big "al fresco" bag of ice, having found out that Memorial Day revelries had drained the gas station next door of all its ice. Tips were had all round.
§
Sun/May 25, Gatlingburg, TN/185183* 4:30 pm [Parked]
Dear SW, It warms my heart to see your concern, and that's not to say that I don't need, nor want it. I take advice wherever I can . . . as to following it, well, that largely depends on conditions, the exigencies of travel, and the random acts of god, the bodhisattva, nature, etc.
That said, to set your mind at rest and to give you a window onto how I think, the following is an overview of the next several days before we meet at your place this coming Friday.
Sunday—Today I'm hanging in Gatlinburg, taking on water and provisions, doing my laundry, and generally processing the past 10 days and my second experience at PBI, the Paper & Book Intensive. Late this afternoon I will emerge from an on-ramp onto I-40 east of Knoxville, headed for I-81 and Harrisonburg, VA, where I intend to bed down at one of two rest stops on either side of town. I prefer the northern most of the two, since that would make the trip north that much easier what with Harrisonburg and its inherent congestion behind me. My total miles and driving time for this leg of the journey is mapquested to be 6 hours and 361 miles.
Monday—Mid-morning I will get back on I-81 headed for I-78 and Berkeley Heights, NJ, where a dear friend has, on very short notice, made a spot available for me to spend the night parked and bedded down on her driveway. Mapquested, this leg is 5-1/2 hours and 327 miles and, since I don't need to be in NJ at any specific time, I might pull off the highway at Chambersburg, PA, and go sight-seeing in Fairfield and Gettysbug before pushing on.
Tuesday—After a sharing of our lives apart over coffee (I stayed with my Berkeley Heights friend from 2003), I expect to be back on the road headed for Northampton, where another friend, on more notice, has made available a spot on yet another driveway for the night. Mapquested, this looks like some 7 hours, and 400 miles.
Thereafter, I'll be living out of my vehicle on the streets of Northampton until it's time to head back west to your place in PA. In Northampton, I intend to frequent coffee shops (which is where I get much of my work done), further my relationship with the friend whose driveway I initially used, tour Daniel Kelm's "Garage" in Easthampton, and get some writing and other book art done—I've got a carousel piece to start for a PCBA (Pacific Center for the Book Arts) member's show. The piece is due in San Francisco on June 21.
Friday—I will be on the road to Fairfield which, mapquested, is 7-1/2 hours and 443 miles. For this leg, I might get a very early, pre-dawn start so that I could get into Fairfield at a reasonable hour. Might we cook our dinners together?
Yours…
That said, turns out Nemesis pulled out before I did. 4 up, I reckon. Must have overheard my game plan. At least I was good for something.
§
Sat/May 24, Gatlinburg, TN/185183* 8:30 am [parked]
§
Leg One: San Francisco, CA, to Gatlinburg, TN
Wed/May 14, Crab Orchard, TN/185075* IL, KY, TN
Early this morning, the enormity of what I've undertaken hit me. Two-thousand six hundred and fifty-seven miles from home, I awoke, quietly saying "help, help, help," at 3:54 am. No one was to hear me, thank goodness. Like all the others, this rest stop is virtually empty.
I know the time because I always sleep with some sort of a clock by my side; this time it was my cell phone. It's a trait I picked up living in the center of the City, San Francisco. It's always good to know that when you hear those sounds in the middle of the night: breaking glass, an explosion, repeated cries for help, the roar of an earthquake. My foreboding has been building.
Right out of the box, in the middle of Nevada, I saw a horrible accident. Google: <<"fatal accident" Fernley Monday>> and you will read about what I actually saw.
Then, there was the tow in Boulder where, from inside the tow truck, I mentally checked into a Super 8 for a very uncertain stay and I would have physically checked in by phone if the guy in the Ford service center had given me the right telephone number.
Entering into Kansas on Sunday, I found myself making a mental will. That morning I had left voicemail to MM asking about the minimum requirement for a will. I have relatives, but I want my friends to benefit from life, not an indifferent family, and if I were to die on this trip, I would die intestate: no will.
The drive from Nashville to Knoxville didn't help either. Imagine driving on a narrow two-lane track through a dense forest with very green, leafy trees growing right up to the narrow shoulder on the right. To your left is a median strip, the only respite from the thick jockeying traffic as you hurtle up hills and down into dales at 70 miles an hour. At one point, I don't know where, I never saw a reference point. I saw a truck being pulled backwards out of the median strip into my lane, Tennessee trooper cars facing into it on either side, and the driver, a dark, red-skinned man, handcuffed with his hands behind him and sitting on the lower step of the passenger side of what had been his truck.
All of it enough to give me a nightmare, which ended with a cry for help like those women I hear being robbed on rainy nights in the City. In the dream I was coming up a stairway only to find my way blocked by a large lightweight cylinder, like one of those dense foam exercise rollers, only to see the upright hand of a body on the floor as I pushed the cylinder out of my way.
Perhaps this is another reason to take road trips. To meet your demons head on.
Now don't get me wrong, the trip has not been a bummer, and while I did not take it expecting negativity, I will take this as it comes. And maybe the nightmare had nothing to do with these things, perhaps it was only the natural downer that accompanies an equally elevated high.
To get a key to my treasures made, I pulled off the highway near Eddyville, KY, and found myself amidst the vocal inflections of my kin on my father's side, whose parents were from somewhere in Kentucky, probably on the Union side. My father's father had been a cook in the U.S. Cavalry as we chased Mexican bandits in the early 1900s in the territories that would soon become the states of Arizona and New Mexico. I don't think he would have joined the Cavalry if he had been raised on the formerly Confederate side of Kentucky.
The first place I came to after pulling off I-24 was a gas station set off from the highway, up on a hill in a woods. The region has gotten so much rain that all the trees are fully leafed and green, and many fields are flooded. Trees and water are everywhere, but, unlike Tennessee seen from the Interstate, there are breaks in the trees, and from the hilltop I could see water towers poking up through the canopy, and across the way, the buildings of William's Bar-B-Que and a large white man preparing his fire, presumably William.
I asked an equally large man behind the counter, wearing a blue collarless smock and matching blue polyurethane gloves, about where I could get a key made and about William's barbecue. Speaking in the tones and vocal rhythm I've not heard since we last visited my father's kin, Great Uncle Red and Aunt Pearl in their walnut and pecan orchard in Live Oak, CA, he told me that I should go into Eddyville, past the Chevron Station and the Dollar Store, and turn left into Ace Hardware. I bought ice, thanked him, and headed out, leaving William for when I had to come back this way to get back on the Interstate.
Western Kentucky, or at least the little slice I saw of it, looked prosperous and neat. Sturdy and well-maintained old houses, smaller, one-storied versions of Red and Pearl's Victorian pile, stood on large tracts of land with copses of trees around the houses and, I presume, cleared, if not tilled, land behind them. No neighbors were near. From the porches, all one could see would be the trees all around and the highway cutting through. No litter. No billboards, and the white lines on either side of the roadway and down the middle looked freshly painted.
In the Ace hardware, a bustling place thinly stocked by California standards, with a local man named Ron's cookbook prominently displayed by the barbecues and long-snouted lighters for sale, I met James, a man a little older than me, a big man around the chest like virtually all the older men I saw while I was on the ground in Kentucky. I think James owned the place. It was James who would cut my key, the key to a safe in which all the records detailing my assets could be found.
At first, I stood aside as James showed a younger man how to cut keys, but I stepped back in when it became apparent there was a problem. Seemed that Ace didn't stock the exact blank. I told the two men that if it wasn't going to work, not to force it. Because this key was important to me, I needed it to work.
Back in Boulder, after the run-in with the BPD foot patrol, I had misplaced Nomad's vehicle registration and my CA insurance card. For all of the trip after Boulder, I had been on my best driving behavior because I had nothing to show any inquiring officer of the law other than my CA driver's license.
Subconsciously I was having the key made so that MM, SA, Li, and Mart would have recourse to my worldly effects should I pass on, however horribly. Consciously, however, I was having the key made so that MM could find in the safe the original of the van's registration and mail a copy to me, and this I told to James. We bonded, and while not the exact blank, he made a key I'm sure would work. Just like my kin and, if I may say so, myself, James was resourceful.
On the way out of town, I pulled into William's parking lot, but because of the CLOSED sign, I didn't stop and drove on into Tennessee, bypassing Nashville, heading east towards Knoxville. After about twenty miles, I saw a sign for "Whitt's Barbecue, Exit 238, left one mile." Of course, I got off I-40 at Exit 238 and went hunting.
Several miles into the town of Lebanon, not having seen Whitt's, I stopped a mailman and asked directions to the Post Office where I would later post the key to myself in a blue envelope. (And, while rummaging around in my purse again, I found the missing vehicle registration and insurance documents.)
On the way out of town just before the on-ramp, far less than a mile, I saw Whitt's Barbecue where I found a whole chicken cooked so slow the meat fell off the bones, yet so moist as well. Not like your Safeway rotisserie chicken. The business was in a newish bank-building with a drive-up teller window; probably they had moved and figured there was no need to change the old wind-beaten sign on the highway.
So, perhaps this entry begins and ends with barbecue, for that is what I had for dinner, saving the breast meat for later and rounding off the meal with nothing more than a slice of dried glazed pineapple and a bottle of Sudwerk's Merzen beer. Perhaps my early morning's discomfort was due to a meal of pure protein, sugar, and beer. Perhaps not.
§
Tue/May 13, O'Fallon, IL/184662* 4:54 am. KS, MO, IL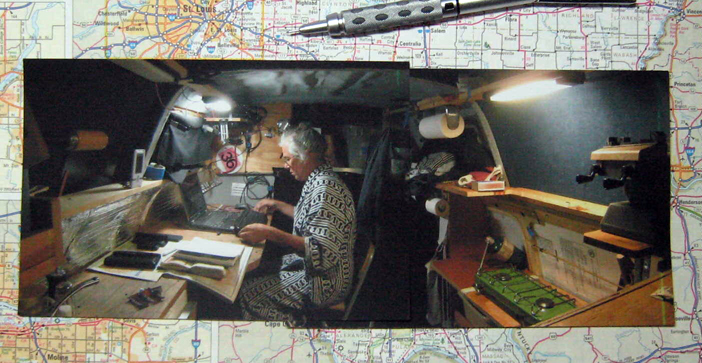 Inside the Tardis known as Nomad
Tar•dis |tärdis| noun. 1. a time machine. 2. a building or container that is larger inside than it appears to be from outside.
Origin: the name (said to be an acronym from time and relative dimensions in space) of a time machine that had the
exterior of a police telephone box in the British TV science-fiction series Doctor Who, first broadcast in 1963.
Train sounds nearby this rest stop, maybe the Illinois Central. A freight heading west, sounding it's horn, very soothing. Must be a road crossing nearby. Equally soothing are the muted truck sounds of I-64. The State of Illinois had the good sense to set the passenger car parking far back from the Interstate.
SA called Sunday (5/11) to say that she was "hurtling down 101, just south of Salinas (CA), pacing train # 11, the Coast Starlight (an Amtrak passenger train), right alongside Charter Club and St. James Place (both private railcars). Perhaps the freight on this morning's train is heading towards California too, with passage through Denver and Salt Lake City. It's all connected. (Charter Club and St. James Place passed through Glenwood Springs when I was there crossing the pedestrian bridge on Thursday 5/8.)
Yesterday was spent traversing the eastern (populated) half of Kansas and all of Missouri. At the end of the day, I "nosed" early into Illinois. (Around 9 pm, instead of my usual midnight.) Stayed ahead of a storm. So, had good weather, but little time to linger, which pretty much fit my mood. Confidence in Nomad has yet to be regained.
After the utter lack of "civilization" in Eastern Colorado and Western Kansas, I was ready for the signs of civilization seen today. "It's 4 am, do you know where your fourth meal is?" announced a Taco Bell billboard. McDonalds told me that they made "Espresso better than what your old barrista used to make." Ads for tractors, septic tank services, and more. I'll have to catalog them when I pass through again. Some of these things may make their way to the Bubble, like the variable speed signs on the freeway—brightly lit signs, probably with large LEDs, looking like the faces of old fashioned digital clocks that apparently can be changed from a central location from one speed to another at the stroke of a key. The use of automatic cameras on the freeway to ticket for speeding.
That said, the McDonalds claim was so preposterous that, during a re-fueling stop at a brand new gas station with a McCafe grafted onto it, I had to go in. It looked kind of a cross between the dark hushed tones of Peet's and the bustling efficiency and commercialism of Starbucks. But where both Starbucks and Peet's use at least veneered particle board, McDonalds relied on good old dark plastic. And the same old back-lit plastic menu/price signs were there, along with the ubiquitous machinery and shelving necessary to supply hamburgers, shakes, fries, etc.
I went up to the counter and engaged a young woman behind it; she looked of early college age and had that bushy, straight hair framing a face with that square Northern European bone structure hiding behind glasses with big lenses. "How do you make them?" I asked, looking around for the espresso machine. "What?" she said.
"You know, how do you make the cappuccinos? Do you grind the beans and put them in a, what do you call that thing?" She adjusted her glasses, retreating back further from the counter.
"Do you use one of those machines where you just punch a button? " I said, finally spying just such a device back off to her right. "Er-rr," she replied.
"When I was in New York City, I saw them using a machine that all you had to do was just push a button and out came the coffee. Is that what you use?" I said brightly. "We use a machine," she said, nodding her head in the direction of the machine I had spied. "Thank you," I said, and left.
On my way out, I passed the only booth occupied in the McCafe. It could seat some 8 similar groupings. The young people at the table, there were four of them, three young women dressed in McDonalds garb and a young man who might have also been an employee, but off-duty. The girls were talking with the man, a boy really, who was stroking his hairless cheeks with a tin of Skoal "smokeless" tobacco.
My barrista, Joe, has nothing to fear.
§
Mon/May 12, Junction City, KS/184254* 7:30 am. CO, KS

Georgette's Dream House #2, Arapahoe County, CO
Nomad ran well yesterday as we crossed the eastern half of Colorado on into Kansas. Had a stiff head wind from the east most of the way. Gas mileage dropped dramatically between Colby and Hays, KS, from 9.8 mpg for the previous fill-up (Limon, CO, to Colby) down to 7.7 mpg for the run into Hays. Side-buffeting was heavy where the road turned crosswise with the wind out of Colby, but fortunately there was little traffic, as has been the case for much of the trip. Could see the van's exertion in her high engine temperature which seemed pegged at 180 degrees F.
Have found the rest stops to be virtually empty all the way across from California to Kansas. A few trucks, but little or no passenger vehicles have been seen. Often I'm the only non-truck in a parking lot when I bed down, though by morning a few others have joined me. (But when they pulled in, I have no idea—I'm a very sound sleeper.) This is nothing like what I saw on the I-5 corridor between San Francisco and Seattle this past April. The first rest stop in Kansas, a new one, had WiFi, but I had no time to connect.
I wonder how long this will last, and if this is an effect of high gas prices. Have paid $3.60 to $4 for 87 octane gas all the way across. The only difference between the gas in one state and the next seems to be the state fuel tax, which is not the norm. Normally, there is a general trend to ever decreasing gas prices the further east one goes. It will be interesting to see what the prices are in Missouri, which is where I will be filling up next.
In Hays, turned off the auxiliary fuel pump since the engine sounded wet and rough as I throttled down to non-freeway speed, nosing into the gas station for a fill-up. Surmising that the altitude had changed and since it was no longer day-time, it felt right to do this. Here in Junction City, it's obvious we are not at Eastern Colorado's and Western Kansas's seemingly constant "mile-hi," as one of the road signs put it. All of the water bottles that had been opened in Boulder were squeezed inward.
Aside from watching sage brush and scrub give way to grass, the view was relieved by many, many Quonset huts. Where there may have been a barn in the past, there was now a Quonset hut. It seemed every farm house, square and resolute, had one. Old ones, big ones, some with three roof ventilators, some with four. Seems it was the perfect thing to have, usually set with its door opening to the south, when looking north from the highway, headed east (and vice versa). Apparently the shape of it's curved walls facing into the wind gives the wind nothing to grab on to.
§
Sun/May 11, Boulder, CO/183754* 5 am. [parked]
[Text forthcoming]
§
Fri/May 9, Boulder, CO/183754* 7:25 pm. CO

Nomad in the landscape, above Boulder, CO
Many espressos and altitude do not mix.
It was a tough climb from Glenwood Springs up into the alpine bowl of Vail, CO, and it was an even tougher crawl up and over Vail Summit at 10,600 and some feet. Fresh snow was on the ground and, as Nomad and I got further along into the clouds, we could see snow in the trees and evidence of recent snowplow activity.
Friday had dawned in Glenwood with the thermometer showing that outside the van it had gotten to 37 degrees F over night and, what with the cold and the altitude (Glenwood Springs is at 8,xxx feet), Nomad was having a hard time of it. Vail Summit really taxed her. Engine power was low and engine sounds were ominous. Fuel, much fuel, was going in, but little power was going out.
With every foot down from the summit, things seemed to be turning around. The carburetor sounds became more powerful and the engine became more responsive. Where we had crawled up at 40 mph in top gear, on the down we were beginning to turn respectable speeds.
Above Denver, on US Highway 6 into Golden, things became positively bright. The engine was responsive, although the traffic in front of us seemed to become longer and longer, and slower and slower, as more and more cars got onto the highway behind the slowest moving vehicle in front of us.
An hour later than I had planned we pulled into Boulder only to find ourselves in the midst of graduation mania for the local college. Caps and gowns sailed in the Colorado breeze as what seemed like a mile long line of traffic, two cars abreast in both directions, crawled through the center of town on Broadway.
In the right lane, not knowing when to expect my right turn, I got a chance to see another impediment to our progress, a city bus making its slow, torturous way down the road, stopping at every opportunity to pickup graduates and local denizens. Spying a chance to jackrabbit all of Nomad's three tons into the left lane, I unthinkingly shifted on the column into what would be a lower gear in my other car, but was "Park" in Nomad.
A horrid "clunk" was both heard and felt, and as she actually rose into the air as the crank shaft stopped mid-spin, I quickly recovered and shifted to the right. Not knowing if I had any transmission left, I stayed in the right lane and prayed that there was enough "go" left in the van to get me off onto a side street. Miraculously, Nomad kept going. After a couple hundred feet, and after having patted myself on the back for not having totally fucked up, the engine died.
Calmly, bringing the vehicle to a stop, with heavy, traffic moving to the left of me and a mile of traffic behind me, I put the shifter gingerly into "Park" and restarted the engine which, again, miraculously started up and we continued further north. However this time, after only a few feet, at the exact center of town, Broadway and Pearl, the engine died. Period. And, of course, it was in front of a coffee shop.
Fearing the worst, whatever it might be, I called AAA and arranged for a tow to the nearest Ford dealer and got their phone number. By this time, I was quite the object of attention in Boulder, including a foot patrol of a man and woman detachment from the Boulder Police Department.
While putting the police on hold, I called the Boulder Ford dealership only to find out that they no longer had anything to do with Fords, but got the name and number of another dealer several towns north of Boulder who, in turn, deferred to yet another dealer further north in Loveland.
By this time, a third Boulder PD officer arrived on the scene with the idea of pushing me with his vehicle off the main drag into an alley, which I and the woman BPD officer had already ascertained had only one way in and very little room for a tow truck to get me out. Leaving the officers to sort this out, I excused myself to use the coffee shop's restroom.
By the time I had relieved myself, the officer in the car, apparently the more senior of the three, had seen the reason of my plan and agreed to provide traffic control until the tow truck arrived, the foot patrol having melted into the urban landscape. Shortly thereafter the tow arrived and, equally fortunately, the tow truck driver, let's call him the Trickster, was a very senior tow guy indeed.
To make a long story short, and to leave out certain juicy bits, on the long ride to Loveland some 40 miles north of Boulder, he told me that my description of the problem pointed to a lack of gas, not a transmission problem. On the word "gas" (which I had plenty of, having filled up in Vail), I was reminded of Nomad's penchant to shut down at high altitude in the heat. It was very warm in Boulder and I had had installed a second fuel pump in Santa Fe two years ago just to handle such emergencies.
Asking if I was game, the Trickster said he could put us into the next big parking lot where we could test the second fuel pump to see if it would solve the problem which, of course, it did. Whereupon, with Nomad still ingloriously back up in the tow position, face rearward and nose down, we headed back to Boulder, where I write this, safely in a parking space outside of Becca's house. Chastened, but not crestfallen.
The Early Summer Roadtrip continues.
§
Thu/May 8, Glenwood Springs, CO/183585* 5:13 pm. UT, CO
With rain hard on my heels yesterday, pretty much drove straight through from Springville, UT, to Glenwood Springs, CO, some 350 miles. Left Springville (and the eponymously named Art Museum) around 1:30 pm; arrived at the Springs near dark. Glenwood Springs is the site, among other things, of a large, improved hot springs pool and resort complex.
By the pool's closing at 10 pm (I got in at 8 pm), I had inadvertently scored a parking space which, as of this writing, I've occupied for more than 20 hours, and expect to occupy through the night, into tomorrow morning. And what a cool space it is!
Glenwood Springs is at the bottom of a canyon carved out of rock by the Colorado River. The canyon is so narrow at the bottom that a relatively short pedestrian bridge connects one side of the canyon with the other, crossing all four lanes of I-70, the high and roaring west Colorado River, and two main railroad lines. Glenwood Springs is a stop along the way of the California Zephyr, which goes through Denver, and connects Oakland, CA, to Chicago, IL.
On the north side of the canyon and river is I-70 and the hot springs/pool/lodges/caves/luxury homes and my parking space. On the south side, is the town, which straddles south-bound Colorado State route 82—the only way into Aspen this time of year, all other routes to Aspen currently being snowbound.
I say I am well situated because, like most high-end resort towns, parking is almost impossible for casual travelers like me. "No Overnight Parking" signs abound, only to be relieved by "No Parking Except for Guests of (fill in name of luxury hotel)."
If it weren't for the "angel" I met in the pool last night, the night manager of one of the luxury hotels, I'd be spending nights several miles outside of town in a rest stop along I-70 and dodging the local cops during the day who assiduously enforce Glenwood Springs' traffic and parking laws. (I think the angel looked kindly on me because of the SEC connection; his father, who is my age, is a Certified Financial Planner.)
In other words, my parking space is at the center of all the action. It's at the head of the pedestrian bridge's north anchorage and above the pool. That said, met a man today at (yet another) Sacred Grounds, one of Glenwood Springs' two coffee shops with free Wi-Fi, who turned me on to what he says is the best, comprehensive guide to the hot springs of the American West, "Great Hot Springs…," by a husband and wife team with last name of Kaysing. (Apparently there is no significant geothermal activity east of the Rockies; hence, there is no guide to the hot springs of the American East, there being none.
This man, let's call him Les, also leveled with me about what it's like to be a middle-aged, former professional athlete who apparently broke his back "on the job", while rock climbing. Said he broke his T-5 vertebrae. Les is now a photographer supplying images of, among other things, the Great Outdoors, to Internet stock agencies. Seems to be making a name for himself, while living out of his vehicle.
We both were in agreement about the photography rat-race: few are making a living strictly on what they shoot and, nonetheless, it's a tough racket to break into. Les also mentioned a male friend of his who is transitioning in gender in a small mountain town. His TG friend's situation sounded grim. My advice for the friend was to pull up stakes and get out of Dodge. Some fields are too rocky to plow.
That said, will be uploading a pix of Bill Lee's piece, "Harry's Phoenix" 2007, into a gallery of road and other pix, after I get to Denver and its environs. Saturday will be spent in the Mile-High area with Becca and her friends. Then, it's off to Gatlinburg, TN, a small town on the northern slope(s) of the Great Smoky Mountains. The annual Paper & Book Intensive is sited in Gatlinburg this year, and I will be attending all ten days.
§
Wed/May 7, Salt Lake City/183217* 7 am. CA, NV, CO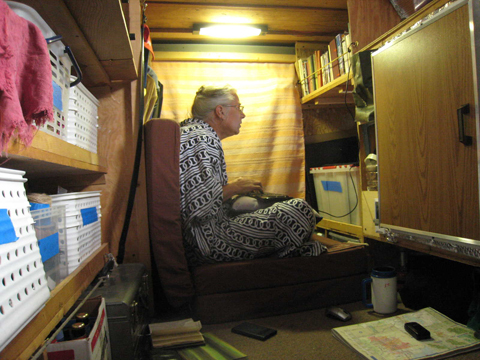 What's in a roadtrip? Why take one? So far, 799 miles and four days; for more, read on. As for the answer to the second question: why? It's far too soon and I write this knowing there may never be THE answer—just more questions.
As MM recently learned, "As a man, I knew most of the questions and didn't like many of the answers. But now, as a woman, I am constantly amazed by the questions and absolutely engaged with the answers."
And maybe that's why I take roadtrips. Questions never dreamed of at home get asked, and the answers, well, the answers are, literally out of this world. Or, at least outside my little San Francisco world—the Bay Area Bubble.
That said, left San Francisco, May 3, entering the Bay Bridgeway at 1:42 pm. Met up with Mart in Sacramento, bought three photographic prints (including a larger version of John Wimberley's "Descending Angel") at Viewpoint's auction, and spent Sunday doing the final kharma yoga necessary to ready Nomad for the trip. Said my goodbyes early Monday morning to Philip and Savanna at Espresso Metropolitan, got my Depthcharge, and headed east.
Lunch at the Donner Lake overlook, a nap in Winnemucca and a Red Eye afterward at Delizioso Espresso, just before they closed at 7 pm. Then, on to Wendover, where what was left of the night was spent in the Bonneville Salt Flats rest stop.
Tuesday's glorious dawn came and went, and I headed to the Great Salt Lake and a gas station, where I lent a man leaning on a walking stick (and whose mother lives in Florida) a Vicegrip to wrench open a stuck gas cap on one of his many ATVs. In Salt Lake City, parked within easy walking distance of Mormon Temple Square and near the SLC Coffee Break, where I will be uploading this GLog entry later this morning and getting a Shot-In-the-Dark.
Spent the evening in conversation with Gretchen Reynolds and Bill Lee, at Gretchen's (and without having to repark Nomad), discussing art, and artists' responsibilities to themselves and society. As Bill put it, sort of the meeting of an "idealist, a pragmatist, and a dreamer." Got back to Nomad at 11:33, finished watching Ron Howard's "Cocoon," and went to bed early in the morning.
Today, definitely a nap, but first off to Springville and a museum where Bill has a painting hanging in a juried show. (Gretchen's show is in a New York City gallery.) Hope to make Grand Junction, if not Glenwood Springs (both in Colorado) before bedding down for the night.
That said, could layover in Springville instead, having aborted the crossing of Soldier Summit due to bad weather. This morning's dawn was not bright. A low overcast covered my location and now, in Salt Lake City, it's raining.
*Nomad's odometer reading at the time of the writing of the GLog. At the trip's start, the reading was 182418.
Photographs by Georgette Freeman © 2015. All rights reserved.
Copyright © 2015 by Georgette Freeman. All rights reserved.
§