Georgette's

Summer Road Trip 2009
Photographs and drawings by Georgette Freeman © 2009. All rights reserved.
Copyright © 2009 by Georgette Freeman. All rights reserved.
Leg One: San Francisco, CA, to Boulder, CO • Leg Two: Boulder, CO to Penland, NC

§
Leg Two: Boulder, CO to Penland, NC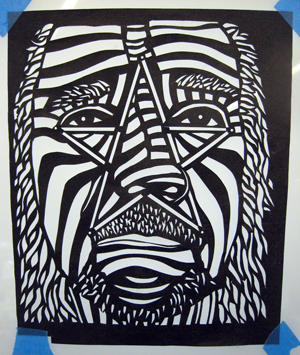 "When stars come out . . ." AP, Treatment #1, Einar de la Torre, Penland, NC, 6/3/9,
by Georgette Freeman in Béatrice Coron's paper cutting class, The Cutting Edge, at Penland.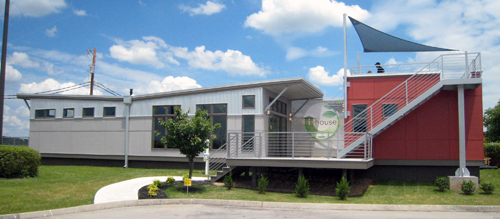 Saturday, May 23, I-81 Rest stop, Jonesborough, TN, 5:15 EST, 202049*
Seems universal, birds start chirping at something like 4:44 in the morning, and that's regardless of time zone or GPS location. Found myself listening in to the opening of this early morning's chorale, mind whizzing with the possibilities of owning an i-House, and made the perfectly sane decision to get up and do last night's dishes in the early morning coolness, serenaded by Tennessee's warblers and the ever present swish and whine of heavy-duty truck tires in the background.
Now, this wasn't a neurotic act. Much of housecleaning is simply a sign of neurosis but no, this was an act driven by self-preservation. Today, like yesterday and most of the yesterdays since Wyoming, is going to be another warm one. After making dinner last night, the temperature inside the van was still in the mid-80s and I was sweating profusely. It was in the mid-70s outside, but as the van had picked up so much heat during the day, and I had put out a lot of heat making dinner from scratch, it wasn't likely to cool off until long after midnight. In short, I had dirty dishes to do. So, I'm doing them now when it's 57 degrees outside and that extra heat from the stove is welcome. While it's 57 outside, it's 71 inside, mid-way through the dish cleaning ritual.
Thursday, while I didn't find any Six-Fingered Jacks or Web-Handed Sallys on my joyride through Kentucky and Tennessee's backwoods, I did find my own biases. Sally and Jack are figments of my own imagination. What I saw on my drive down US 127, from I-64 and Kentucky's capitol, Frankfort, to Cookeville, TN, a big wide spot on I-40, I could have seen on a drive from Sacramento to Burnee, by way of something other than Interstates, say state routes 16, 88, and 89.
Where I would have seen McMansions and horsey lands east of Sacramento, I saw McPlantations and lottsa horse fencing in Kentucky. Certainly greener than California, everything is lush here in the southeast. And where I would find dead logging towns in the foothills, I found dead tobacco warehouses in Kentucky and Tennessee and, of course, in the south and far away from the Interstate I saw front porches filled with long used up appliances and what-not, and the ubiquitous dead cars (most of which are for sale, by the way), but I would have found that in California too.
At first I thought of backwardness and agreed with the MacTools guy who filled his rig up next to mine in Danville, KY, as we commiserated about the lack of culture around us, but we would have had this same conversation in Danville, CA, if the situation had been reversed. As Gertrude Stein said of Oakland, "There is no there there".
That said, it was a delightful drive. At 55 and less, Nomad turned in a respectable 14.5 mpg (over 180 miles); the late afternoon and early evening were quiet and pretty. I was on the east side of most valleys and hills so there was no sunset, just a million shades of green and enough cars ahead of me that knew the way so that I didn't get lost, which would have otherwise been easy to do. US 127, Tennessee's "Vietnam Veterans Memorial Highway," is a narrow but well-maintained two-lane track through the woods that winds its way from country corner to country corner, up hill and down. I wouldn't have liked to drive it at night.
Near the end of my joyride, I found young adult locals out enjoying the coolness of a dry early evening at a wooded intersection dignified with a traffic light (where everyone runs the orange light as they cross US 127), a shed for washing cars, a ramshackle gas station/convenience store, and the biggest single scoop of rocky road ice cream (in a cup) I've ever had. Later I would skip dinner, but first I provided the locals with some entertainment to the tune of: "Where you from?" "In that?" "All the way?" "How long did it take ya?"
Even got a man my age or older to get up from his seat at a booth where his cronies sat, to stare out from behind the glass door separating us and smile that smile that says, "You're the most perfect fool I've seen in a long while."


Thursday, May 21, Gateway rest stop, Shiloh, IL. 7:28 MST, 201394
Finally, it seems, I can rely on the truck and become more spontaneous in my travels. Yesterday, while in Missouri, I hopscotched from rest stop to rest stop looking for a "data service" connection on my ATT Internet Remote, drove from one truck plaza to another trying to replace (to no avail) a "Vietnam Vet" sticker for the van that I had bought and lost the day before at the Kansas Petro 2 in Colby, KS, when I was photographing the fake oasis (complete with telephone-pole trunks and wired together metal fronds) and even considered googling a theater in the area near this rest stop so that I could take in a movie. (But, didn't do that, was tired out after making a scratch dinner. Went to bed early—sorry SA.)
Today I'm going to take what before was my life in my own hands, get off the big red highway(s), and cut south on what is probably a country road in Kentucky, US 127, half-way between Louisville and Lexington, so that I can make it to my most favorite rest stop ever (at least for the moment), Crab Orchard, TN, which is just off US 127. Expect to be going through "hill country". You know, "hollers."
I-75, Lexington to Knoxville, TN, is the big red way to the rest stop, but out of the way for a stop there in Crab Orchard. US 127 is almost a direct route and also avoids a major road closure in Knoxville on I-40 that I learned about yesterday afternoon from the guy manning the Illinois rest stop's information booth from where I now write.
At least I have no fear that the route will be unpaved since federal money was used to build it and I think the Kentucky and Tennessee folks have more pride than that. Not so in Kansas where just about every road not a federal or major state road is unpaved. All along I-70, looking off into side, near-distance, all I saw were unpaved (county?) roads with the only section not dirt being the concrete overpass that gets those farmers from one side of the their dirt road to the other over I-70.
And Jesus, he's everywhere in Kansas, and as the pix below declaims, (He) "Lives." You can find him pictured in wheat fields, his name on the sides of trucks: "Jesus Christ is not a swear word" and don't get them started on abortion. These signs are everywhere with the only breaks in this Christian monotony being the "little box" signs that crop up when you get close to a big wide spot in the road: McDonald's, Shell, Conoco, etc., along with much smaller entity signs touting everything from "world's largest prairie dog" to homemade pie. And, of course, on either side of the big wide spot, leading up to and away from the Interstate, are the ubiquitous dirt roads, where I have a sense that there are a lot of people trying to maintain an early 20th century existence complete with 1930's prejudices. Remember, Brown vs. Board of Education came out of Topeka, KS, and it's Kansas that enshrined in their schools the option: evolution or creationism.
On another subject, Kansas, found out at Monday's rest stop, the new one just over the border between Colorado and Kansas fittingly near the Kansas town of Kanorado, that the obvious is true: tourism last year was very much off. Where in July 2007, 25,500 people had signed their guestbook; in July 2008, only 18,000 had signed in. This year things seem rosier, about 15% more people have signed in for the month of May 2009 (to date) when compared to the same period last year.
This of course, is vital to the people manning that rest stop because their jobs are on the line. Seems the Kanorado rest stop, complete with robust WiFi, is operated by the Kansas Department of Commerce, not by the State's Department of Transportation, as is every other rest stop in Kansas except the Department of Commerce run rest stop in Wichita. Seems these Commerce rest stops are trying to stimulate spending in Kansas through their operation of an Information Center cum e-shopping mall. Much of the inside of this well-lit, warm, comfortable haven from the wind is given over to presenting things made in Kansas that are for sale over the Internet.
I haven't mentioned it, but it's very, very windy in Kansas and Missouri. Gas mileage during this portion of the trip dropped down to 8.9 mpg because of the wind and it didn't help that as I got closer to Missouri the wind was from the side. Early on, before I knew how to handle it, I almost got blown off freeway while passing a truck (on the right) and in correcting, found myself veering into the truck. It wasn't fun for me and goodness knows what the truck driver was thinking as Nomad wobbled back and forth, at times careening dangerously towards him. After this, I learned another way to steer when passing trucks in a side-wind: have the steering wheel in a hammer lock and goose the throttle.
Below are three views of Kansas, the one on the left is of the landscape looking west towards Colorado from the Kanorado rest stop, the middle one is a seemingly consensual Kansas statement, and the one on the right is of the "oasis" at the Colby Petro 2 truck stop. And before I forget, kudos to Leigh and SA who correctly identified my "strange looking deer", the Internet confirms their belief that what I saw were Pronghorn Antelope.
Finally, never met up with Cha-Cha face-to-face on this trip, but talked twice on the phone with her, including Monday afternoon just before heading out. The call was completed outside her studio's door where I left a No Vapor Lock fridge magnet attached to the metal door. Plans were made to try and meet up again when I come through in July, which might be in time for a Cha-Cha sponsored music gig at Booker's co-op's community room on July 11. This might be something to make, the musicians are two Welsh women (and I do so love live music in intimate settings) and, should teaching at the NYC Center for the Book (the CBA) fall through, the concert and the chance to spend more time in Boulder might be a good consolation prize.


Monday, May 18, Booker and Susan's driveway, Boulder, CO, 11:32, 200509
Gorgeous morning here in Boulder; early summer is in the air, but things are not as hot as they could be because there's a nice breeze moving west towards the mountains behind me. In front is the Plains, out on which I will be spending the night, just over the border from Colorado in Kansas. Tonight, my destination is a relatively new rest stop built by Kansas, which I saw on last year's trip but didn't stop at. (Reportedly it has WiFi.) Should be underway today, and heading east before 3 pm in the expectation that, at that time, I will still be ahead of Denver's evening rush hour.
First, though, I must try one more time to see Cha-Cha. Found out yesterday that her studio is only two blocks from Booker and Susan's place. Also, my to-do list includes a small laundry and a second big hot bath on this trip. (Thank you, thank you, Booker and Susan.)
As for the weekend, it was full of comaraderie, good food, good ine, and good vibes. Ten of us had dinner together at one long table, shared stories and life experiences and, later, on Booker and Susan's second story deck, listened to old 78 rpm vinyl discs of early Dylan, the Beach Boys, and the Beatles, as night gathered around us. (As for the period of the music, think "I want to hold your hand!") I was even able to give a professional therapist who came to dinner a taste of the pleasures of an i-Pod, when she expressed a wish to hear Dylan's latest CD. She rocked in her chair, buds in her ears.
This is one of the reasons why I make it a point to stop off in Boulder as often I can. Booker and Susan have a home in a cooperative housing development for seniors and, as a consequence, this is one of the few places where I am able to spend time with a large number of people in my own age group who are more or less going through the same stages of life: aging, retirement, health problems, and the need to reminisce with age-mates, people who are of similar ages and who went through the same historical time period as each other.
Saturday, in preparation for the dinner, Susan and I went shopping at the Boulder Saturday market for the fresh vegetables and scallops that would go into my stir-fry, as well as the makings for Susan's salad. Ended up with bunches of long, thin, heirloom onions and garlic, several varieties of mushrooms including one that looked like a small sea sponge, red and yellow bell peppers, asparagus, rhubarb canes, strawberries, and a big loaf of fresh bread, a ciabatta. (Sea scallops came from Whole Foods, vanilla yogurt to go on top of the rhubarb-strawberry pie that I would be making came from a local market and, for those who want to know, the citrus juice to help sweeten the pie filling was from four blood oranges I found at Whole Foods.)
Saturday Market is held on the grounds of a public space in downtown Boulder and holds something on the order of 60–75 booths. The wide drives on which the booths were set was filled with people, good energy, and lots of well-behaved large dogs—retrievers, labs, and even a Labradoodle. Didn't see the blues guitarist I saw last year, but we did see the most amazing vehicle parked outside the Market. A picture of it is attached.
"Peacemaker," the bus's name, belongs to a messianic millennial group who believe that the Messiah is coming and that it's their duty to go out and gather those who will greet him. Of course, it seems to be dominated by a couple of white men who lead the young people, all white, several with young children. The bus sleeps 10. Googling the cult's name (Twelve Tribes) brings up the usual cult stuff. Their catch phrase, also painted on Peacemaker's back-end is: "We know the way. We'll bring you home." One of the kid's told me that they use the bus to attract converts and sited it at places like the Saturday Market for that purpose.
Moreover, he said, the bus has been taken to Grateful Dead concerts, where they provide medical aid as well as the chance for salvation. This kid also said that they were proselytizing in Boulder for the purpose of establishing a commune in Manitou Springs, which is just south of Denver near Colorado Springs. However, the bus, which Susan and I were able to get into, is quite amazing. Actually it is two post WWII commercial high-end touring buses, one an Aerocoach, stacked on top of each other. Andrew, the older white guy who seems to be leading this contingent of the sect, told me that it took seven men three years to do the conversion. And, in addition to this bus, the cult has at least two other buses including a wildly painted custom Hippy school bus, named "Garden."
In addition to the cultists, I also struck up a conversation with the woman behind the PFLAG table. First I outed myself, so we could be on the same page and she could have another idea of how this M-to-F transition thing works. Even told her about having transitioned on the job and that I was able to spend 1/7 of my federal agent career as a woman. "No way!" she said. Of course, she was overwhelmed, but I think, after she reflects on our conversation, her understanding of our common cause will have been broadened. That's one of the reasons I don't believe in going stealth. To poorly paraphrase Harvey Milk: straight people have to see us before they might even begin to fully understand our plight and do something to put aside their fears, misgivings, and misunderstandings. Then, they might help us.
Having outed myself to the therapist at dinner, I was paid a number of compliments, including the feedback that she thought I looked good because I didn't do makeup or otherwise try do the femmy thing. This came out after all the other women present shared that they didn't wear pantyhose and couldn't understand why I did. The therapist also shared that a transsexual she knew always struck her as being more of a drag queen than a woman, largely because of the makeup.Thus, under the right circumstances, I believe folks have to know that this old thin-haired masculine-appearing woman talking with them is transgendered. Other than on Oprah, where else are they going to see and know for sure? It's the least I can do.
On another note, I have Susan to thank for directing me to another form of alternative housing, the i-House, the new Clayton Industries modular home. Turns out I will be passing through Maryville, TN, where Clayton has its headquarters and factory, which is on my way to Penland. I will try today or tomorrow to get a tour of the house should they save one set-up close by. I understand there might be a demo home up in Asheville, NC. Unfortunately, I won't be near there until this Friday which is the start of the Memorial Day weekend.
In finishing up here, let me share that I got a nice 45–50 block walk in after breakfast with Booker and Susan on the eastern outskirts of Downtown Boulder. On the way back to their place in the extreme north end of Boulder, I saw a strange sign on the doors of a bank (see pix, attached. My reflection is "behind" the sign.) as well as the sights and sounds of a still prosperous young town, including two deer-like animals crossing Broadway near Wonderland lake. I say deer-like, because, if they were deer, they were unlike any deer I've ever seen. Deer-size, a male and female, the male with a rack of horns just coming in, but there was something wrong with their mouths. The muzzle on the male, who was the closest to me, was blocky like that of a labrador, not prim and precise like deer I see in the Sierra. In fact their lips reminded me of camel lips. Maybe they were elk. They were shaggier and stockier than Sierra deer. Of course, they moved off before I could get a pix.

§
Leg One: San Francisco, CA, to Boulder, CO
Friday, May 15, Booker and Susan's driveway, Boulder, CO, 21:12, 2000509
The first leg of the road trip is done: San Francisco to Boulder in three nights, 1,269 miles, and 109.1 gallons of Supreme gas. Do the math and that's a very respectable 11.6 miles per gallon, especially when you consider that much of the first leg was done at 75 mph and higher. (75 is the speed limit on I-80 through almost all of Nevada, Utah, Wyoming, and Colorado, from Reno to Denver.)
Very little to complain about; the van interior is far less cramped than it's ever been—I didn't pack as if I would never return to Jones Street and I've had only one minor hiccup with the van's engine—it definitely doesn't like 8,000 foot (and higher) altitudes and isn't shy in letting you know about it.
Found myself departing a gas station in Laramie, WY, this morning and having the engine cough as I tried to insert myself into fast moving (for Laramie standards) local traffic with less caution than was necessary. Had a brief moment where I was wondering what would happen if the engine didn't roar back into life in the next couple of seconds, but didn't have to go further in the scenario since the engine started up and got us (the van and me) out of what could have been a disasterous (is that a word?) situation.
Tomorrow I'm shopping for a dinner for a party of 10 which I will be preparing, and will be accompanied by Booker's partner, Susan Brooks, to Boulder's Saturday market to buy the necessary vegetables and rhubarb, if such is available. The scallops will be coming from Whole Foods—the entree will be a scallop and vegetable dish in a Chinese ginger sauce. The sauce is from the Joy of Cooking and the scallop idea is of my own invention. Sort of a stir-fry without the high heat or a wok and, oh, the ginger was bought fresh in San Francisco this past week.
Am already looking at the map to get ready for Leg Two, Boulder, CO, to Penland, NC. That's upwards of 6 days to do some 1,600 miles, and am thinking of paring that down to 4 days. Will probably spend most of Monday in Boulder, hopefully much of that with Cha-Cha at her studio, then, before Denver's rush hour takes over the evening's commute, I'll be heading out on the plains bound for the Colorado-Kansas border on I-70 for a new rest stop Kansas put up at the border in the last couple years.
The plan would be dawdle my way across the mid-West, stopping at rest stops for the night. Too bad this kind of travel won't be possible on the East Coast, because the law there frowns on spending any length of time in rest stops. That's a regional difference, if you haven't thought of it before—on the West Coast you can almost campout at rest stops, but don't try that on the East Coast without first reading the fine print posted by each state at their respective rest stops.
It's cool to spend the night at a rest stop in West Virginia, but not in Virginia. I wonder how much of that has to do with racial or class politics, since the poor, who might not be able to afford motels, might also be black or poor white.
Attached is a pix of an alternative to rest stops, the truck stop, the Laramie Petro Stopping Center to be exact, with its Iron Skillet restaurant. I would think that even Petro would get huffy if everyone started squatting in their parking lot, but that doesn't seem to be a problem.
Unfortunately, the Petro chain is not everywhere and only entrenched on I-40 and I-81. While there is a Petro about every 8 hours worth of truck driving on I-40, the year-round, all weather highway link between the east and west coasts, there's only a smattering of Petros elsewhere, not enough to count on for a transcontinental road trip by some other route and the other truck stops are much more down-market and catering to truck drivers. In towns where there are Petros, the Iron Skillet is the best restaurant to be had for the dollar and they're not expensive.

§
Thursday, May 14, Bonneville Salt Flats east rest stop, 7:25 MST, 199874
Thursday morning, the sun has been up for at least an hour, but only now coming above the cloud bank off towards what is Salt Lake City some 110 miles away. It's 45 degrees F outside, and 70 inside. Turned off the heater when I got up, at least a half-hour ago. Still cozy.
Hauled down the highway yesterday at the posted speed limit of 75 mph and had no trouble maintaining the speed. And, given the presence of a significant number of Nevada State Troopers on the highway all the way across the state in their new, snazzy black vehicles, had to be mindful and keep the speed down from 80. Where did all those cop cars come from? Usually in Nevada, you never see one
Things seem to have decidedly turned the corner on this long-standing mechanical issue that has been plaguing me on these trips. For the first time, the truck has been driven hard for a full day and nothing's "not happened." In fact, because the thermostat has been removed from the water line into Nomad's engine, there's barely any engine temperature showing on the temperature gauge, which the engine seems to love.
Now, when I turn the key in the ignition, it starts right up. And, when jumping onto on ramps, it doesn't die down at the bottom of the ramp just before the merge.
In other words, I seem to be able to count on it, which I hope to do a lot of before reaching Boulder tomorrow. Then maybe I can forget about the van and concentrate on having a good time—taking side trips or just plain lollygagging, just because it feels good to do it. And I don't need to worry about getting stuck somewhere.
This also means that I can now seriously comb the Internet for things to do at destinations like Laramie, WY, in which I intend to walk around as well as bicycle—need to get that exercise. Have already located what looks like a college and noted the coffee shops servicing it, and it's in one of those coffee shops that I will spend the morning when not out enjoying the day in Laramie.
Have heard from Booker and talked with Cha-cha. If I can, and Cha-cha is free, I'm thinking of a visiting fireman's tour of her welding and jewelry studio on Monday. No need to get out onto I-70 headed for St. Louis and then on to I-64 and Lexington, KY, until Tuesday. Can't check into a room at Penland until after 4pm on Saturday, May 23 anyway.
Well, time to call Bill. We're going to meet up in SLC and talk stereo. Have my camera ready to show.
In closing, here's a pix of the van this morning at the Salt Flats rest stop. You're looking northwest, towards Wendover.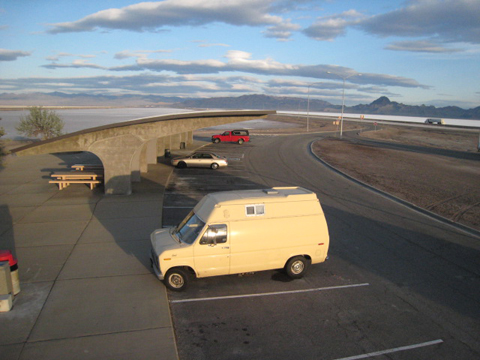 §

Wednesday, May 13, Sacramento/ Java City coffee shop, 8:53. 199346*
Spent the night (May 12) outside Espresso Metro(politan). Quiet oblivion, must have been the new (5" thick foam) futon mat. Dinner (cream of broccoli soup and a small garden salad with blue cheese dressing) and IPA (beer) at Rubicon Brewery.
Got out of SF Monday afternoon, 1:40 pm to be exact, 199240 on the odometer. Nomad's front wheels felt the cool thrill of open road as we launched into late lunch hour traffic, headed east on the lower deck of the Bay Bridge, having gotten on at the First Street on-ramp.
Very anti-climatic, no frenzy. Got up early, 5 am, as planned, and simply concentrated on the few containers that needed filling, which I filled one at a time: toiletries, cold food, dry food, clothing, computer and ink photo printer, workshop materials, and my own tools and supplies for the upcoming, over-arching art process—defining negative space.
Then, well, I dithered. Had set aside until 1 pm for takeoff—best time to be on the highway and still have a good morning in SF—and it took two trips to Joe's to make that happen. Am very glad that all I really thought about the past two weeks were the workshops to be given, and the one to taken, and how to make one "feed and nourish" the other, and I seem to have done that. (See pix.)
Well, have sat here for a half-hour, had the necessary moment build, come, and go, so now it's time to head for a Best Buy and a Fry's and get some computer accessories; then lunch, either up on Donner Summit or in Truckee.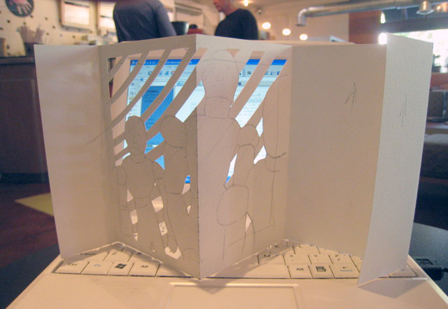 §
Sunday, May 10, Jones Street, 11:24. 199236*

[Parked in a Monday morning street sweeper zone.]
Found an extra day of travel that I could trim off, between Salt Lake City and Laramie, at no expense to myself or the itinerary. Now, I'm looking at getting even more solid on packing, and further relaxing before setting out. Tuesday afternoon, around 1 pm, should see me headed east on I-80, for a night in Sacramento and some buying of computer stuff, next day, on my way out of California.
The plan is to spend Wednesday night just east of Wendover, UT, out at a rest stop on the Bonneville Salt Flats. [Dawn out there is noteworthy.]
For the first time, probably ever, have made contact with almost all (all but one) of the persons with whom I will be interacting, if not also staying with overnight, at least one night, out on the driveway. And, that's out of upwards of 14 people, the number depending on whether I go to Portland directly, or to San Francisco first, before going to Portland (2 less).
That said, the only givens on this trip are the dates in Penland (5/23–6/5), and New Jersey/NYC (6/7–6/23). On July 28th, I must be in Portland. Mart is celebrating her 60th birthday that day and I've been invited and want to attend.
Seem to have jump started my drawing and cutting of negative space. (See pix below.) This will be what I hope to be doing for the next several weeks. Never really thought in these terms before. May even lead me to outright collage.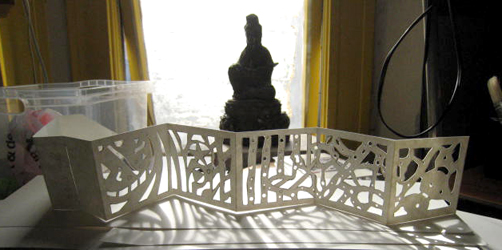 *Nomad's odometer reading at the time of the writing of the blog. At the trip's start, the reading was 199236.
§
Back to the top • Leg One: San Francisco, CA, to Boulder, CO • Leg Two: Boulder, CO to Penland, NC • Home