Drive

2013
Photographs and drawings by Georgette Freeman © 2013. All rights reserved.
Copyright © 2013 by Georgette Freeman. All rights reserved.
§
July 2013
Why Penland! 16 July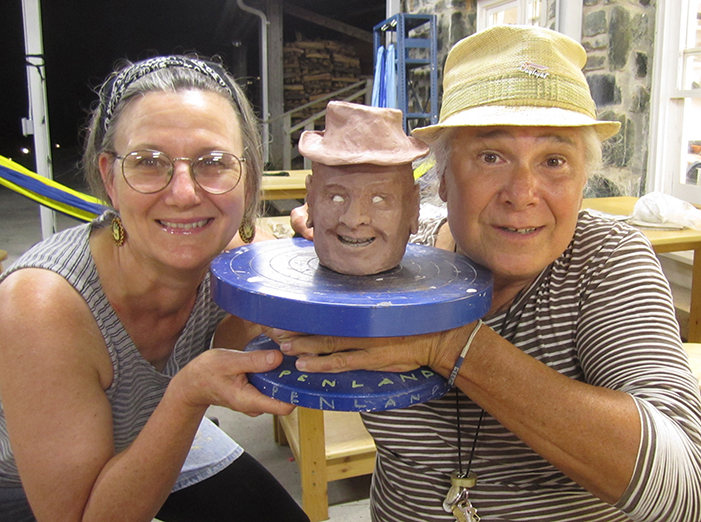 6–13 July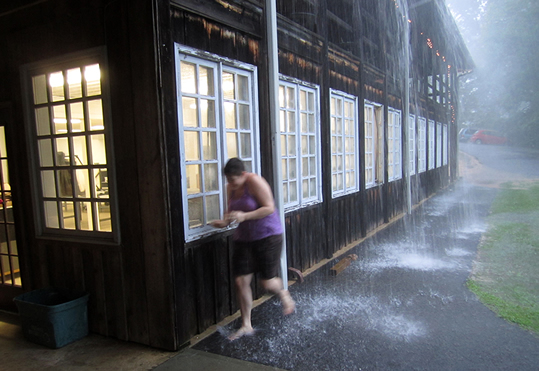 Arrived at Penland! Just an hour and a half out of, and several thousand feet above, Asheville NC. WiFi and phone work, at least at designated spots, so communication with the outside world has been established.
I'm here for the next two weeks, intending to retrace my steps back to Boulder starting Sunday, July 21st with nights in Dale IN and Salina KS.
The sun is shining here, albeit very cloudy. Expect heavy rain again within the hour. We've had nothing but bouts of serious rain every day so far, but it's warm inside where I am in the dining room's glassed-in veranda. The upper and lower ventilation windows are open, letting in the melody of birdsong wafted by breezes. And in the background, the kitchen staff preparing for lunch provide the bass notes.
It's very green. The grass, on the big fields descending from my perch here on Penland's coffee shop patio, has been mowed, and the fields are deeply lined on both sides, meeting somewhere far behind me, with varying tints of green shade trees.
Looking off to my left (The coffee shop's windows are immediately to my right. The patio is really the flat space under a modern-day pergola.), are a number of buildings going up the hill behind me, including: a two-story log cabin, an early 20th-century three-story stone and wood administration building, a 40's two-story structure with wide verandas overlooking the fields in front with suites of clay and sculpture studios, a tall kiln house resembling a big lean-to with ricks of wood for firing stacked cosily under its many eaves, a very modern very high-ceilinged corrugated steel and glass structure that houses the two printing studios (letterpress and etching) which is where I was in 2009, and just barely visible through the hedges of flowers and small flowering trees directly behind me is the two-story wood pile where I will be ensconsed for the next two weeks.
And did I mention the song birds? In every tree, including honest-to-god cardinals!
Anyway, I'm off the road.
My 4th of July Breakfast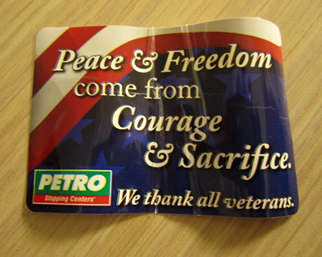 I was a hundred miles west of St. Louis about 7 in the morning on July 4th, looking for gas and a sign.
Something that would pull me off the highway and make me feel good, and there it was, an exit away: Petro and the Iron Skillet, gas and two eggs over easy. It could only have been better if this Petro truckstop had partnered with a Starbucks like the one in Salina, Kansas where I had fueled up yesterday.
So, knowing the drill, I gas up without shutting off the engine, pull into a parking space, backward, behind in the Skillet in front of a window with an empty table, go inside past the register and the "Drivers Only" counters, and take a seat in the dining room at the table looking out onto my car.
Skillet waitresses are usually very attentive and these were true to form, bustling, cheerful. A stark contrast with the clientele. However I was startled by the greeter who leaned down onto me, almost touching me with her yard-high Uncle Sam's hat. She asked, "Coffee?"
In the light of my table's large window, her hat, inches from my nose, was all a-twinkle with red, white, and blue sequins. She was wearing a loud matching sequined t-shirt with the letters "USA" emblazoned on it.
"No," I responded, "water and orange juice."
Before I could get up and go to the bathroom, my young waitress zoomed by carrying plates of food on her way to another table and asked, "Is that large or small?"
"What?" I said, taking in her t-shirt, another "USA" but without the sequins.
"The orange juice," she replied, "large or small?"
"Large," I said. And looking around, I saw that everyone on the wait staff seemed to be wearing some form of the "USA" themed t-shirts.
Taking stock of myself at the table, I realized I had forgotten to note the odometer reading for this fill-up, it being my habit to record in a logbook the details of the miles per gallon driven for each leg of travel. A kidney also needed draining, so, I got up from the table and went back out to the car, passing by the register and using the restroom as I went.
Outside, I was greeted by the usual single virility-emoting older male leaning on the hood of what I took to be his car, but I brushed him off as I went to mine. Opening the door and looking in, I noted the mileage reading on the odometer: 282453.
Back inside the Skillet, I passed by the register again and overheard the cashier asking a middle-aged dumpy male customer, probably a truck driver, who paying his check, "You a veteran?" which didn't mean much to me until I got back to my table.
On the way back into the Skillet, I had noted a sticker on the front door which said "We Honor Veterans" and, what with all the "USA" stuff inside, and the cashier's question, it struck me that I should ask the waitress, when she came to take my order, if it meant anything today that I was a veteran.
"You got any proof?" she asked, "dog tags? Any ID?"
I laughed. "That was forty years ago," I said, "but I am a veteran. I served in the US Army during the Vietnam war." "Well, if you are a veteran, this breakfast is free. But I've got to give you a ticket," she said. "You can tell your story to the woman at the register."
I stewed all the way through breakfast, a Denver omelet with raw tomato slices on the side (you can never get enough vegetables on the road), and tried to think out how to handle this at the register. I was sure no one my age, man or woman, who hadn't actually retired from the military had by this late date any proof of service on their person.
If an older veteran still had their DD-214, the piece of paper you're given upon discharge, I was sure it was at home, most likely in an envelope marked "valuable papers," which is where mine is. The actual "Honorable Discharge," a flimsy computer-generated dot-matrix thing, is in a box somewhere in storage along with my diplomas and other what-nots from thirty to fifty years ago. I keep the DD-214 closer to hand only because possession of it entitles me to some remaining veteran's benefits, including a burial plot and headstone. (Heirs, take note.)
That said, back at the table, as I was finishing up a delicious breakfast (I've never gone wrong at a Skillet), I wished I had lingered longer at the register and heard the rest of the exchange between that guy and the cashier. I was sure that if he had answered yes, the woman would have just accepted his answer, thanked him for his service, and refused his money.
So, how to get there myself?
My answer was to write on the ticket my name, branch of service, rank at discharge, MOS number (military occupational specialty: 84B/still photographer), and my unit. And then I photographed the ticket, thus memorializing everything and having for my records two telephone numbers to call to complain to should this turn out other than I expected.
However while still at the table and having left a good tip, I thought of one more thing to write on the ticket: "Honorably Discharged."
Thus fortified, I headed for the cashier, a no-nonsense, early middle aged, African American woman wearing a black "USA" t-shirt. I handed her my ticket and said, "I am a veteran."
Having heard me, and reading my note on the ticket, she too asked for proof.
"That was forty years ago," I said, keeping it short. I've learned in such situations over the years to put the essentials down in writing and then say as little as possible after. The cashier hesitated, thinking.
After a few minutes of silence from me and with the problem plainly stated on the ticket in her hand, she secured the register and, mumbling something about talking to someone else about this, disappeared into the kitchen behind the "Truckers Only" counters.
A few more minutes passed, enough for me to note that there was another person behind me, a guy, but not enough time for the guy to show frustration.
The cashier returned and, as she began to put the ticket through her validation machine, I said, "Thank you," correctly assuming that my $11.72 breakfast was on the house. And, not saying anything herself, she continued her process and handed me a $5-off coupon, good for this same restaurant through the end of the month on any purchase of food over $20 exclusive of tax or gratuity and wordlessly turned to the guy behind me.
Know, dear one, that I intend to redeem this coupon on my return trip to Boulder before the end of July, day or night. Skillets are 24/7 and their steak plates are good. Especially when all you've been eating on the road is dry granola, peanut butter and crackers, or sardines, washed down with bottled water, mugs of homemade espresso, and premium microbrews.
They sure know how to celebrate Veterans Day around here!
June 2013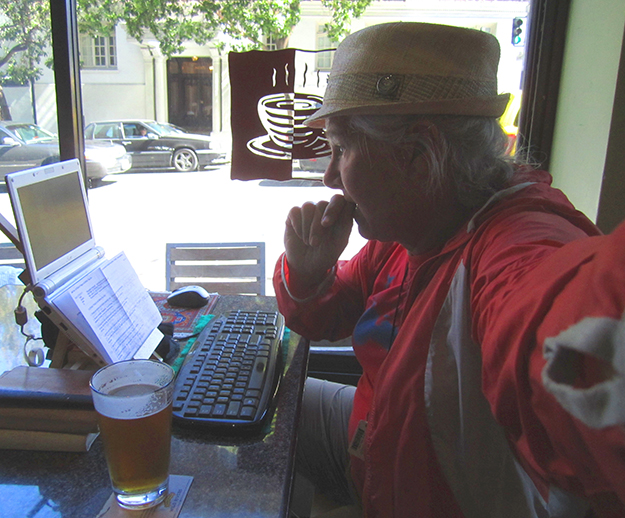 The Summer Road Trip for 2013 is fast approaching and my mind has turned to mortality. Upwards of 13,000 miles and over 2 months does that. So, here's a timely list of mine:

10 (Elitist) Things to do Before I (or You) Die:
1.
Change your sexual orientation, or gender and (where possible) sex. Does wonders for your perspective. Harrows the "ruts" of life and, should you be so lucky, I hesitate to say—
you'll be 17 again.
2.
Become vertically integrated, in all things, from bedmaking, to cooking, to passages of time,
to toenail maintenance. Inhabit courage, patience, and skill.
3.
Open yourself further to right-brained thinking and enterprises. Drawing, driving, card playing, jig-saw puzzle playing, singing, dancing—play, all are examples of right-brain thinking,
which is flowing. Left-brained thinking is constrained.
4.
Establish and hold to a rigorous diet and regimen of exercise. Be mindful that you are also aging and that, whatever you do, you should be able to do it happily, until the end.
Imagine playing a piano with your toes, in two-part harmony.
5.
Learn to float on the breath. Get "lost" in the moment and, periodically, in the landscape.
Yet, maintain your zip code. Dying in your sleep is sweetest in a familiar bed.
6.
Further explore the bandwidth of sensation; indulge your passions, newly found and existing. Even out of earshot, trees leaf, mature, grow rings, and fall—splendidly.
7.
Engage your writing with reading, and vice versa. Toughen up mentally. Snorkel in the zeitgeist.
8.
Reduce your footprint. Be a net seller. Filter and organize your shit. Endow an archive.
Leave a memoir; learn the how of your existence.
9.
Avoid institutionalization. Freedom is measured in degrees, strive for 360.
10.
Bank the means for your own exit. Leave a will.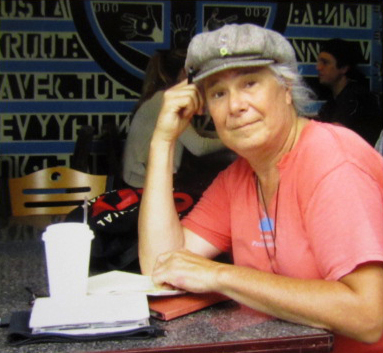 23 June
Right now I'm looking out to week after next and handling the fact that it's going to be around 100 degrees on the 2nd day of the trip in Nevada (Tuesday 7/2) everywhere I might travel.
And on that Tuesday I've got 11 passes to clear, in some 12 hours of driving, and the next day there are two more, before I'm out of the mountains and out on the Plains.
The elevation ranges of the passes I've got to travel are from 6,348' to 11,158' above sea level. Most are over 7,000', and two of those are over 10,000.
Whew!