Frances Baer: A Remembrance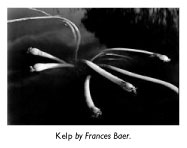 Artist, wife, mother, grandmother, widow, friend, Frances Manny Baer died in the Carmel area this past August 5 after a short illness. A private memorial is being planned for what would have been her 86th birthday, this coming January.
I had the good fortune of making Frances's acquaintance after a bad showing of a portfolio of matted Polaroid SX-70 images during a meeting of the Baerly Masters at the Baer residence in Carmel Valley some 15 years ago. It was in the early afternoon and, at least from my vantage point in their sunny dining room, the work looked good. Though no more than three inches and change in either direction, those little plastic images looked tightly seen, and they were certainly colorful.
However, to the real master, to Morley, who always spoke first at these things, I might as well as have stayed in my place at the back of the room. "Why so small?" he said. "And that color! Jeez. It's awful. Can't you do better?" Needless to say, no one else had anything to add, let alone me, and after gathering my prints together, I retook my place in the back. What I didn't know was that Frances had also been in the room, and that she too had seen the work.
A little while later, I got a message delivered from her. "Frances wants to see you," Jim Galvin whispered in my ear. "In her studio, towards the back of the house," he added. And that's how I got to meet Frances, on her turf, in her world—in her studio, where she was then working in watercolor, as well as quilting.
We talked for what seemed like hours. She understood what I was doing with the SX-70s. She even understood fractured picture planes, which is what I had been doing before, and in fact, she showed me some of her own fractured picture planes which she was doing in watercolor. We shared our mutual admiration of David Hockney, and together we pooh-poohed "rock and tree" photography.
And so it went, about once a year for ten years, in which time I got to know about Frances's early years, before Josh, her only child, was born. She told me of how she too grew up on a military base; and how a Marine Corps sergeant was detailed by her father, a senior officer, to teach her how to drive a car; and how she had to pass the sergeant's test, which included doing light repairs on the vehicle.
I learned of the young couple's early years in Carmel, when they lived in a cottage at the edge of town; and of how Morley missed a big break working for House Beautiful as a photographer in the late 1940s—that wouldn't happen until the early 1950s.
I also learned of her years helping out Edward Weston as he became frailer and frailer, and of how Weston approved of what she was doing in photography. And how, after her son was born, she decided not to compete with her new husband and instead put down the camera.
I last heard from Frances after she had moved into a rented house looking out onto Monterey Bay. In her note, she said that "if you wish hard enough it will come true," and she enclosed a photograph I had recently admired on my last visit. It's of Frances and Morley sitting on the rear bumper of José, their 1950 "woody," and, as she put it, may have been "snapped by himself," meaning Edward Weston.
Of course, I had hoped she meant something other than a photograph when mentioning "wishing hard." In our last visit, I had shared with her my decision to try and change gender again, and it would have been extra-special for me to get her validation on this. But then again, maybe that is what she meant. She so enjoyed double-entendres—almost as much as pronouncing the words themselves.
Now, she is gone. They say the mark of a successful performer is that the audience keeps asking for more. I know I never could get enough, and I'm certain I'm not alone on this. So, encore! If only there could be an encore. God bless her soul.
Note: Georgette is collecting stories about Frances Baer. If you have one that you want to share, e-mail her at gcfreeman@cwo.com.
Published in Viewpoint Newsletter, October/November 2003, Issue 76, Sacramento Valley Photographic Art Center, p.5. (See Links page, Writings by, for the full issue.)
Photographs by Georgette Freeman © 2003. All rights reserved.
Copyright © 2003 by Georgette Freeman. All rights reserved.
Looking to dignify her hand, Georgette Freeman is a student of calligraphy,
as well as a journalist and photographer, book artist, and a retired SEC examiner.